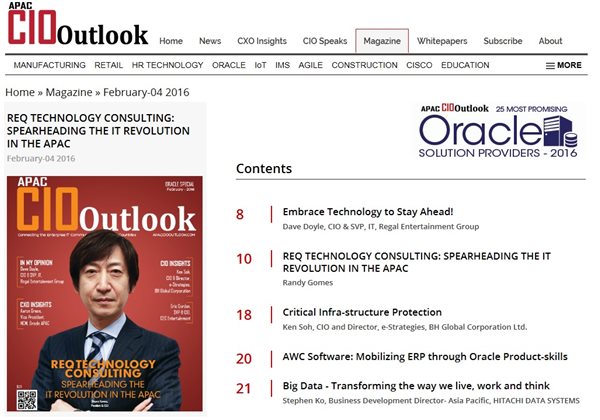 CIOoutlook magazine is a print magazine distributed to CIO, CXO and other senior decision makers for IT in Asia Pacific Region.
CIOoutlook magazine has been published with the annual special edition on Oracle Technology where main focus will be on industry trends, experience sharing and advice about  Oracle solutions from industry insiders.
In the same issue, we also publish a list of  "25 Most Promising Oracle Solutions Providers". Our editorial team has analyzed offerings, top management and reputation  of about 750 companies offering Oracle Solution and services to Enterprises in Asia pacific Region.
They also take input and feedback from our advisory board which consists of top CIO's and senior IT managers from medium to large companies in APAC.
We received notification that Req Technology Consulting has been shortlisted by their editorial board to be honored as "25 Most Promising Oracle Solutions Providers.
These selected Solutions Providers was introduced in the February Special Edition of the APAC CIOoutlook magazine.
Among the 25 companies it has been introduced as a Cover Story over four pages.
"REQ TECHNOLOGY CONSULTING: SPEARHEADING THE IT REVOLUTION IN THE APAC"